"Doc" Flemming
Folk Singer and Supporter
March 19, 1919 - March 4, 1981

EDWARD LEE FLEMMING, JR. AWARD
Sponsored by the
FRIENDS OF FLORIDA FOLK

Dr. Edward Lee Flemming, Professor of Psychology, died on March 4, 1981, while teaching his Psychology of Adjustment Class at Saint Leo University. His love of people, teaching, and folk music touched many people throughout his lifetime.

Dr. Flemming was born in Taunton, Massachusetts on March 19, 1919. He attended Massachusetts public schools from 1925-1936. He then entered the U.S. Army Air Corps where he was a first lieutenant and a navigator. Upon completion of his service requirements, he taught mathematics at the Vineyard Haven High School from 1944-1945 while in the process of completing his Bachelor of Science Degree in Mathematics from Bridgewater Teachers College during the years 1938-1945. He married Miss Frances Maloney of Winstead, Connecticut, and they had four children: Catherine, Lee, Sheila, and Mary.
Upon completion of his M. Ed. in Statistics at Harvard University he joined the faculty at Florida Southern College as an assistant professor. During this two year interim, the first funds became available under the National Mental Health Act of 1947. Working in cooperation with Bowden Hunt, the Judge of the Juvenile Court, and Edward Riley, M.D., the County Health Officer, he organized the guidance clinic which is now the Guidance Center of Polk County.
When he left Florida Southern in 1949, he entered Teachers College, Columbia University, and was awarded his Master of Arts and his Education Degree in 1951.
He then returned to Jacksonville where he organized and, administered the Duval County Child Guidance and Speech Correction Clinic. - At its inception in 1951, he was the clinic's psychologist and had sufficient funds to hire a psychiatric social worker, psychiatric consultation one half day a week, and a clerk. When he left the clinic in 1956, the staff consisted of three full time psychologists, four psychiatric workers, three speech therapists, a half-time psychiatrist, and our secretaries.
He resigned from this position in 1956 to accept a position with the State Board of Health to carry out research, which he had started in 1955, on the use of television in community health education. When the Director of the Bureau of Maternal and Child Health resigned, he was appointed the acting Director of this Bureau. He became responsible for defining areas which needed investigation, and writing up grant applications to the Children's Bureau for the financing of the projects. He was responsible for obtaining the grants which were used to develop the Premature Baby Demonstration Center at Jack­ son Memorial Hospital, Miami, and the Developmental Evalua­tion Center at the University of Miami. He also developed the projects for the study of the agricultural migrants and the
orientation of public health personnel in mental retardation. His contact with migrants and displaced people introduced him to the power of folk song in migrant and small communities.
In addition to these responsibilities, he instituted a series of workshops for parents on the normal development process and another series on communications. All told, in 9 years he conducted over 1,000 of these workshops for teachers, ministers, nurses, parents, and other professional groups in all areas of Florida.
In 1961, he earned a scholarship to the University of North Carolina and received a M.P.H. in Epidemiology in June 1962.
He was then appointed Chief Psychologist for the State Board of Health. In this capacity he was made responsible for supervising and coordinating the programs of 22 mental health clinics and the 27 mental health workers scattered throughout the state. The job responsibilities involved such things as the development of research and training programs, the selection and integration of new methods and techniques for service to the mentally ill, recruitment, and planning.
In 1963, the major portion of his time, as well as that of the entire staff of this bureau, was spent on the development of Florida's Plan for Mental Health. The report of this planning which included the thinking of hundreds of Florida's professionals, was completed and submitted to the Governor in June 1965. He was designated the consultant to the Legislative Interim Committee on Mental Health in July 1963 and worked with Mr. Wooden Liles, Chairman, in the development of the proposed legislation which was submitted to the 1965 Legislature.
In 1965, he became the Director of the Developmental Center and Associate Professor of Behavioral Science at the University of South Florida, This appointment fulfilled his original goal of returning to the academic world when he had gained enough practical experience to teach.
On August 1, 1966, he became the Dean of Academic Affairs at Saint Leo College. He accepted this position because of the challenge inherent in developing a liberal arts college out of an existing junior college.
The years 1966 and 1967 were devoted to the many details inherent in meeting the requirements for accreditation by the Southern Association of Colleges and Schools. The College was accredited on November 29, 1967. To his knowledge, Saint Leo was the only college to receive accreditation so that its first graduating class graduated from a fully accredited college.
In 1969, when he reached 50 years of age, he felt that he had spent enough of his life in the administration role, and resigned his position as Vice President of Academic Affairs to assume the position of Professor of Psychology.
During the school year 1974-1975, he was granted a sabbatical leave, which he spent pursuing his interests in aging and the aging process. He was able to do further research in the effectiveness of the group process in bringing about attitudinal change in the aging. His approach was humanistic and heavily laden with Gestalt Techniques. There were significant changes in attitude and behavior within the group (ages 69-84) which encouraged him to proceed with further research in this area.
He returned to Saint Leo College in September 1975 as Professor of Psychology, delighted to be working with undergraduates again until his untimely death.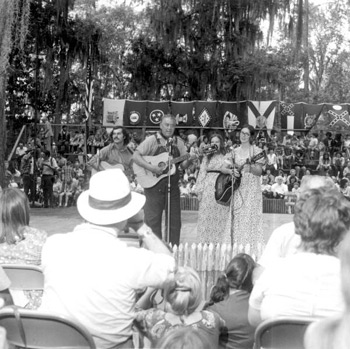 Doc Fleming - Old Marble Stage, Florida Folk Festival circa1972
His active membership in professional societies included: American Public Health Association, American Psychological Association, Southeastern Psychological Association, Florida Psychological Association, Florida Academy of Sciences, Southern Society for Philosophy and Psychology, American Personnel and Guidance Association, and American Orthopsy- Association.
His membership in voluntary associations included: Florida Mental Health Association, Florida Association for Retarded Children, Big Brothers Association, American Legion Aviators Post 100, Council for Exceptional Children, Pasco Mental Health Clinic Board Member, and Knights of 'Columbus.
His hobbies were: collecting Florida folk music and folk tales, cabinetmaking and wood carving, hand guns, oil painting, and playing the five-string banjo, guitar, and dulcimer. His involvement in the Florida Folk Community was significant. He was one of the original trustees at the Stephen Foster Folk Center and had a long friendship and association with Cousin Thelma Boltin. Doc, Thelma Boltin, and Luther Rozar helped start the fist off-shoot folk festival of the Florida Folk Festival by starting the Heart of Florida Folk Festival at the Pasco County Fair. He continue to organize small music sessions and always encouraged everyone to participate in the musical experience at some level.
Doc brought his talents as a group psychologist and as a folk singer together to create "folk dynamics", the art of bringing people together and opening up personal expression thru folk music.