Cousin Thelma Boltin


Cousin" Thelma Boltin was THE matriarch of Florida's Folk Family, whose lively storytelling and emcee work was a long time part of the The Florida Folk Festival for decades.

Born in Beaufort, S.C., Boltin moved with her family to Gainesville in 1907 at the age of 3. After attending Gainesville's public schools, Boltin journeyed briefly north to study drama at Emerson College in Boston, before returning to teach drama at Gainesville High School, where she also became the state's first certified high school public speaking teacher.

In the early 1950s she helped found the Florida Folks Festival at the Stephen Foster Folk Culture Center in White Springs, where she became director of special events. She could be seen as a festival fixture in her sun bonnet and pioneer dress. She told stories and tall tales of early Florida life on and off stage.

She collected and told stories throughout Florida. Cousin Thelma would scout for folk artists to bring the the Florida Folk Festival. Along with Doctor Edward Flemming and Luther Rozar, she started the Heart of Florida Folk Festival in Dade City.

In Gainesville, she was the city's first recreational director, Children's Creative Theater director and a founding member of the Gainesville Little Theater. She shared her storytelling gifts with the community through Story Lady Hour over WGGG radio and as an annual guest of the Florida State Museum's annual Heritage Fair and Collectors Day on the UF campus.

The Gainesville Thelma Boltin Recreation Center was named in her honor.

Cousin Thelma's dedication to Florida's Folklore and Folkways, and her continued effort to foster the "folk family," made her a special person to anyone who was blessed at having known her.

The Cousin Thelma Boltin Award was established to recognize those individuals who have supported and nurtured the old time music community in Florida for many years.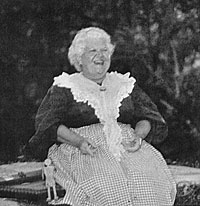 Cousin Thelma Boltin