Jim Strickland - Old Time Music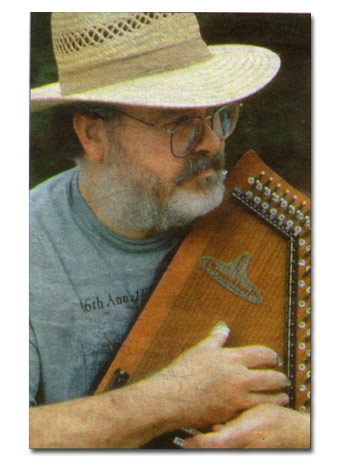 Mr. Ethnic - Jim Strickland
| | |
| --- | --- |
| Jim has played old time music since 1976, when he met and took a banjo class from his good friend "Cousin" Ernie Williams. He began attending and participating in The Florida Folk Festival in White Springs, FL, first playing with Ed Flemming and Friends, then The Hyde Park Hysterical Society String Band and Mr. Ethnic's Wednesday Night Fiddle Support Group, and later with the Barking Dogs. | |
He began programming old time music for radio audiences on WMNF Community Radio, 88.5 FM in 1980, a few short months after WMNF went on the air and continues to this day. (see profile and playlist)

He was a founding member of the folk arts advocacy group Friends Of Florida Folk and the Florida Folklore Society. He is also a member of the Florida Fiddler's Association and the newly formed Florida Banjo Society.

In the late 1970s, he began playing old time music for the elderly in nursing homes, which he continued to do after he became an Activity Coordinator in a long term care facility in 1980.

He has performed at San Antonio Florida's Rattlesnake Roundup, The Pioneer Florida Museum and the Heart of Florida Folk Festival in Dade City, FL, the Fall Country Jamboree in Barberville, FL., and was honored to open a concert with the Mr. Ethnic group for the original Red Clay Ramblers.

Performing solo on guitar, fiddle, banjo, and autoharp, Jim now presents programs of authentic folk and old time country music in assisted living and nursing facilities, retirement communities, hospitals, etc.

Jim has been involved in the Florida Old Time Music Championship since its inception and is Co-Director. As such, he has brought some of the best living master old time musicians to central Florida. He is also Co-Director of the Suwannee Old Time Music Weekend.
Mr. Ethnic's Old Time Music Show
88.5 FM, Tampa, FL , www.wmnf.org
Florida Old Time Music Championship
www.fotmc.org
Co-Director,
Suwannee Old Time Music Weekend
White Springs, FL
www.myspace.com/mrethnic
www.myspace.com/mrethnicshow_wmnf
For Information Call:
This email address is being protected from spambots. You need JavaScript enabled to view it.
1848 Thistle Court
Wesley Chapel, FL 33543
(813) 991-4774