Dan is a modern day troubadour in the truest sense of the word. He travels the country with banjo, fiddle, and guitar, singing songs and telling stories while clogging to the rhythms of his Southern Appalachian roots. Dan is a Pittsburgh, Pennsylvania native who now makes his home with his wife Jennifer in Galia County in the Appalachian region of Southern Ohio. Dan's parents were Pittsburgh natives as well and they raised him with the music he has come to perform. His father, Fred, called dances and his mother, Naomi, played piano, guitar, and sang in several musical groups. They even met at a square dance! He has been touring internationally some 16 years now. In that time he has become well known as an artist of the Appalachian style fiddle and old time clawhammer banjo.
His stage show, An Evening with Dan Levenson, combines old time fiddle, Appalachian banjo, guitar, dance and song in a storytelling format to tell the story of life in rural Appalachia and life on the roads of America via the music of our country. He is an accomplished and dynamic fiddler who has taught himself to fiddle and clog at the same time--a real treat to see! Audience participation and occasional guest performers figure strongly in his shows and children won't let themselves be left out of the fun!
Dan is a native southern Appalachian style fiddler. A part of his show is telling the story of each of his fiddles and their respective tunings. Double stops, special effects, and exquisite bowing round out his style and make him an exciting visual as well as listening experience. In 2001, Dan went contesting a little in his home state of Ohio and won the Old Time Fiddle contest in Coshocton and took second place at the Caesar's Creek Old Time Music Festival. He is the 2005 Ohio State Clawhammer Banjo Champion.
He teaches pre-beginner to performance level fiddlers at workshops, festivals, and camps, and has students all across the country as well as around the world. Dan combines superb musicianship with the ability to teach what he knows in a way folks can understand and apply to their own playing.
His fiddles were built by living award-winning American fiddle builders, Clifford Hardesty of Coshocton, Ohio and Elon Howe of Newego, Michigan. Dan's relationship with these fine gentlemen is also part of his story and both men continue to maintain Dan's fiddles in top playing condition.
Dan Levenson has been voted one of the country's top ten clawhammer banjo players by Banjo Newsletter readers. He is well known as the banjo player for the Boiled Buzzard Stringband and now, as the fiddler for The Hippie-billies - Dan and Miss Jennifer's new band. He is the originator, owner and presenter of Meet the Banjo ™, a hands-on workshop where he brings the banjos! This class teaches history of the instrument and introduces both bluegrass and clawhammer styles. His beginner's video/DVD series and class is entitled Clawhammer from Scratch: A Guide for the Clawless is the first new old time clawhammer banjo instruction manual in over 20 years and is a Mel Bay Publication as is his prior tab book Buzzard Banjo Clawhammer Style. Dan is an endorsee for the Deering Banjo Co., OME Banjos, Cedar Mountain Banjos and Lee Banjos as well as for Taylor Guitar, Elixir Strings, The Colorado Case Co. and the Stewart MacDonald Co. His tenth recording, Bare Naked Banjos, is a solo banjo album that has received exceptional revues from Bluegrass Unlimited and Sing Out! magazines as well as a great deal of interest and airplay by traditional music radio stations in the United States and abroad. He even finds time to write for Banjo Newsletter, THE publication dedicated to the Five String Banjo.
For more information about Dan visit his website: www.oldtimemusic.us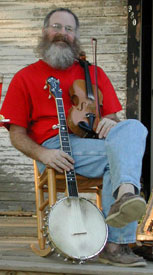 Discography:
Traveling Home - A mostly instrumental album featuring clawhammer banjo and Appalachian fiddle played by Dan and introducing The Lovely Miss Jennifer playing banjo on several tracks. There is guitar accompaniment for many of the cuts on this album provided by Newfoundland's Rik Barron. Produced by Bob Carlin
Barenaked Banjos - An all instrumental solo banjo CD by Dan Levenson played on 4 different banjos.
Light Of The Moon - (Buzzard 2001 - CD) - This is mostly solo recording of old favorites as well some newer pieces. Fiddle tunes to folk songs
Early Bird Special - (Buzzard 1004 CD) The Boiled Buzzards Old Time Stringband. - This all digital recording features the fine banjo playing and singing of Dan Levenson, combined with the driving fiddle of Mark Tamsula, with Ruth Kass on bass and Annie Trimble on guitar and vocal.
Eat At Joe's - (Buzzard 1003 CD) The Boiled Buzzards. This, our third recording, features the fine banjo playing of Dan Levenson with Ruth Kass on bass, Annie Trimble on guitar and fiddler Chris Wig.
Fine Dining - (Marimac 9043 CD) with The Boiled Buzzards. Dan - Banjo, Dave Rice - harmonica, Ruth Kass - bass, introduces Annie Trimble on guitar.
New Frontier - (Blue rose 1001 CD/cs) All instrumentals w/Dan Levenson on Banjo, Fiddle and Guitar and Kim Murley on Hammered Dulcimer and Yang Qin (Chinese Hammered Dulcimer)
Salt and Grease (Buzzard 1001 CD) is The Boiled Buzzards' first album.
Books, VHS & DVDs:

Clawhammer Banjo From Scratch - A Guide for the Claw-less! By Dan Levenson. Teaches the basic clawhammer strum, the chords, the scale and the individual notes of each of 12 jam session favorite tunes from scratch. Once you have the basics, the drop thumb technique, hammer-ons, pull-offs, slides and more are covered to give you complete and exciting versions of a full dozen tunes. Includes 2 CD's with recordings of all 12 tunes in each of 3 versions, a fiddle recording of each tune and most of the exercises and examples. A Mel Bay Publication.

Clawhammer From Scratch, VHS/DVD Video Vol. 1 & 2, by Dan Levenson. A brief history of the 5-string banjo, the parts of the banjo, holding the banjo, right and left hand styles and his basic clawhammer strum. The strum is broken down into the steps of the finger and thumb. Using one tune, Spotted Pony, you are guided through the chords, the scale and then the individual notes of the tune. The video ends with a tips and frequently asked questions and a play along track.

Buzzard Banjo Clawhammer Style,

Tab book with companion CD by Dan Levenson.

Includes a basic banjo primer and a very comprehensive set of exercises, which include, double-thumbing, drop-thumbing, and single-thumb exercises. In addition, there are scales utilizing both double and drop-thumb techniques in both the standard G/A and double C/D tunings. The main portion of the book consists of tabs to twenty-five tunes: Nineteen are traditional and the remainder are originals written by Hank Bradley, Dan and others. Dan¹s tab is conventional and easy to understand & he also includes a few paragraphs on reading tablature in the introduction. A Mel Bay Publication.

Fiddle From Scratch

-

w/ companion CD,

by Dan Levenson.

Standard notation tune compendium for same tunes as in Clawhammer Banjo from Scratch.

Old Time Festival Tunes for Clawhammer Banjo, by Dan Levenson. Tab book with 2 companion CDs. 117 tunes. 2 tabs each.